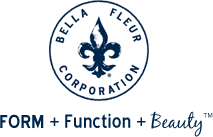 Sustainability
We are committed to craftsmanship, innovation and preserving our environment. It's easy to say we produce our products with environmental and social awareness from concept to execution. But the truth is, one of the most sustainable attributes of our products is their long-lasting durability. Yes, we employ energy-saving manufacturing processes that produce energy-efficient products. Bella Fleur architectural glass is 100-percent recyclable, and wherever possible we utilize recycled/reclaimed raw materials in its manufacture. And as we strive for continuous improvement in our production and business practices, one of the cornerstones of Bella Fleur's mission is also a basic tenet of sustainability: We make durable interior and exterior architectural glass products that are built to last.
We believe that our respect for nature and the land is apparent in every step we take and our goal is to demand less from nature while highlighting it in our designs. We do so by:
Optimizing energy performance by producing energy efficient products
Providing timeless styles with strength and durability
Being responsible to the lifecycle of our products by providing resources for recycle/reuse
Preserving global artisans traditional crafts while supporting their community
Utilizing recycled and reclaimed materials
Continually evaluating our business practices to minimize our impact on resources
Potential LEED Credits:
MR Credit 2 - Construction Materials Waste Management
MR Credit 4 - Recycled Content
MR Credit 5 - Regional Materials
IEQ 4 - Low-Emitting Materials
IEQ 8 - Daylight and Views
U.S. & International Patents Pending. ©2012 Bella Fleur Corporation. ALL RIGHTS RESERVED.