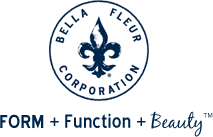 download the Bella Fleur Door & Window brochure (PDF)
download the Bella Fleur Kitchen & Bath brochure (PDF)
download the Bella Fleur Commercial Applications brochure (PDF)
download the Bella Fleur BellaBlades + LouverLock Outdoor Living brochure (PDF)
Specifications & Testing Data
We are committed to holding our products to the highest standards in order to be a design solution for clients around the world.
Please call us with any specification requirements for your project.
• Safety Glazing Approved.
• Impact strength 109 times greater than conventional glass.
• Solid-Core™ re-inforced strength
• Half the weight of glass.
• 6 times greater thermal performance (R Value) than glass.
• Energy Star® rating within insulated door and window units.
• Antimicrobial surface gives outstanding depth, chemical resistance and durability.
• Sound transmission comparable to typical interior wall.
• EnsoGlass is easy to handle, and easy to cut and drill on-site.
• Encapsulating real organics
• Standard & custom designs
ANSI Z97.1
Safety Glazing
PASS
ASTM D790-10
Flexural Strength / Modulus
17,500 psi / 860,900 psi
ASTM D638-10
Tensile Strength Max Load / Modulus
6,504 psi / 726,100 psi
ASTM D695-10
Compression Strength (Max Load)
23,557 psi
ASTM D256-10
IZOD Impact Strength (Notched)
9.1 ft·lbf/in
ASTM D732
Shear Strength
16,900 psi
ASTM 2583-07
Barcol - top, bottom
40-46
ASTM D570-98-10
Water Absorption - 2hrs @ 212F
(212 degrees F = boiling water)
0.257% (unsealed)
ASTM D1505
Density / Specific Gravity
1.23 g/cm3
ASTM D635
Flammability (Burning Rate)
PASS, CC2
ASTM C518-10
R Value - Avg. Thermal Resistance
(1/4" gauge)


.18 hr·ft2·°F/Btu

ASTM C518-10

U Value - Thermal Transmittance
(1/4" gauge)

.91 Btu/hr·ft2·°F

ASTM E90

Sound Transmission Class

31

ASTM D870
Wear & Moisture Resistance
Excellent Performance
ASTM D4060
Abrasion Resistance
Excellent Performance
ASTM D1308
Chemical Resistance
Excellent Performance
ASTM D1308
Household Chemical Resistance
Excellent Performance
Care & Maintenance
Use warm water, mild soap and a soft sponge or cloth to clean EnsoGlass. Over-the-counter glass cleaners may also be used. Do not use alcohol, acetone, lacquer thinner, solvents or abrasive compounds as only warm, soapy water is necessary. Do not use squeegees, scrapers or synthetic rags that may scratch the material.
Fabrication
Wear proper safety equipment including safety glasses, gloves, and protective clothing. Circular saws and band saws are recommended as a blade that moves in one direction produces smoother, cleaner cuts. Diamond blades and drill bits are preferred. Use of a vacuum for dust control is also recommended. Always secure material to prevent excessive vibration. Leave original protective film on material during fabrication.
U.S. & International Patents Pending. ©2012 Bella Fleur Corporation. ALL RIGHTS RESERVED.