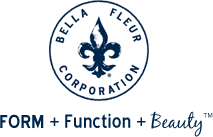 About Us
Bella Fleur Corporation is an international company based in the northwestern part of the United States in rural Canby, Oregon.
Our focus is on innovation that enables us to create and build sustainable architectural materials and products that are functional and beautiful. We are committed to helping our clients achieve their goals while minimizing our footprint.
We work with, encourage and empower small manufacturers from around the world to produce original designs while improving traditional methods. Our products encapsulate and highlight the natural elements of each of our designs as well as improve the quality of life for those around us.
U.S. & International Patents Pending. ©2012 Bella Fleur Corporation. ALL RIGHTS RESERVED.